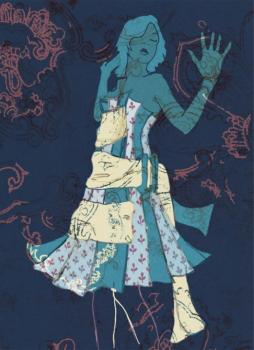 I am currently setting up an online shop www.theoriginalbazaar.com where you will be able to purchase my cards and prints. I would like to involve other british designer makers in this venture so if you produce original work and are interested in having it marketed online please contact me. In the meantime I also have a Folksy shop 'The Original Bazaar' selling a select few of my prints and hand made jewellery.
My illustrations use a mixture of traditional printmaking techniques and line drawings. I often use the computer and scanner as tools for collage, using found items for their unique textures and patterns, and blending them with my drawings.
For commission enquiries contact lulub5@hotmail.com.
Limited edition mounted prints are available of my illustrations for £12 + £2 P&P;. Picture size is 11"x8" in a mount 14"x11". Prints are presented window mounted with quality cream mountboard, backed with watercolour paper and cellophane wrapped.
If you see an image you would like as a print or would like a different size or on canvas please email me lulub5@hotmail.com for a quotation.
Currently there are now 18 card designs available on here (see 'portfolio' for card range). Sets of 5 are £7.50 (£1.50 each) and you can mix and match the styles you like. Individually cards are £2. Prices include first class P&P; email me @ lulub5@hotmail.com to place an order.
*****UPCOMING EVENTS*****
Rye Craft Fair
Saturday 9th June 2012
11am- 5pm
East London Craft Guerilla Designer Maker Christmas Market, Saturday 3rd December 2011
11am- 4pm free entry
Vestry House Museum, Walthamstow
Delight and marvel the good people of East London with a spiffing array of original,beautifully designed and mouth watering hand made goods! Peruse and choose from the best,most promising designer maker talent in the capital which have been hand picked by Craft Guerrilla.
East London Craft Guerilla
*****PAST EVENTS & EXHIBITIONS*****
Fifi's Contemporary Craft Market, Saturday 17th September 2011
10am-4pm free entry
The Stag Theatre, London Road, Sevenoaks
fifismarkets.com for details & directions
'Made' Fair- Sunday 29th May 2011
The Corn Exchange, The Pantiles, Tunbridge Wells, Kent.
A celebration of the handmade as part of UNfest music festival.
Made Fair 2011
'Decked 2' - 15th to 29th August 2010
The Coningsby Gallery, 30 Tottenham Street, London.
2nd annual hand painted/ printed/ carved skate deck exhibition. The private view was packed and all the work looked amazing. Blog of all the artists involved and decks for sale at
Decked Project Blog
'Upfest 2010'- 5th and 6th June 2010
The Tobacco Factory, Bristol.
Live drawing at The Urban Paint Festival.
Collaboration with fellow House of Aces artist Vicky Newman on a large scale live drawing representing the Decked exhibition artists at
Upfest 10
as part of a illustration room curated by the talented Dave Bain. The event formed part of the amazing Urban Painting Festival in Bristol at the Tobacco Factory.
'Decked'- 24th to 30th August 2009
Stolenspace Gallery, Brick Lane, London.
An exhibition of 50 artists, illustrators, tattoo artists, and designers unique skate decks, were exhibited. The exhibition also toured to Canterbury in October.
'House of Aces Collective' featured in
Photoshop Creative July 2009 issue 49
Check out the four page spread featuring loads of our images and introducing our fourth member EJ Miles into the collective.
'Lines, Drawings and Dreams'- 26th November to 2nd December 2008
The Walker-Platt Gallery, Whitstable, Kent
Exhibition with Vicky Newman and EJ Miles.
'House of Aces Showcase'- 21st March to 2nd April 2008
Georges House Gallery, The Old High Street, Folkestne, Kent.
www.houseofaces.net
3rd December to 15th March 2008
The Courtyard Gallery, Mersham-le-hatch, Ashford, Kent.
'Canterbury Festival Art Fair'- 15th October to 3rd November 2007
UCCA, Canterbury, Kent.
Artists selected by curators from the Turner Contemporary and Sidney Cooper galleries.
28th November 2006 to 3rd January 2007
Goldsmiths Fine Art Gallery, Lenham, Kent.